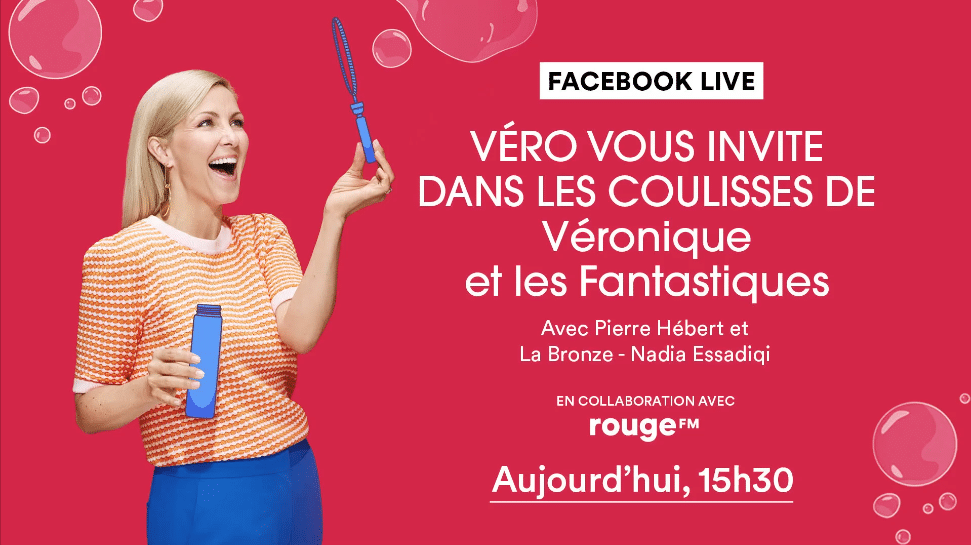 FACEBOOK LIVE PRODUCTION FOR MAGAZINE VÉRO AND AUBAINERIE
In order to complete the advertising offer of its magazine, Véro Magazine has entrusted Social Web with the development of a brand new concept to highlight some of its advertisers in an original way! At lunchtime, magazine fans are invited to watch 15-20 minutes video live from their Facebook page. Video capsules features fashion, beauty, tips and tricks from various experts and include a selection of different advertisers from the popular magazine. This online  rendez-vous thus created allowed fans to obtain advice on various products and to reach a wider audience through a live broadcast.
OBJECTIVES
Highlighting different advertisers of the magazine in a dynamic and interactive way
Launching products, giving advice to fans through the collaboration of specialists (La Reine du Shopping Laurence Bareil, Claude Laframboise, etc.)
Creating interactions with the VERO Magazine Facebook community
Creating contests to reward fans for their participation and listening
Creating quality content that generates quantifiable benefits for advertisers
FACEBOOK LIVE PRODUCTIONS FOR MAGAZINE VÉRO 
RÉSULTATS
43 378 people reached
3 953 clicks on post
503 comments (whitout boosting)
69 shares
1 069 reactions
RESULTS
65 634 people reached
7 362 clicks on the post
1 018 comments
206 shares
1 832 reactions
Lingerie : conseils d'experts pour le temps des Fêtes avec Lingerie Emma!

Nous sommes en direct avec Emma Dunn de chez Lingerie Emma et le styliste Claude Laframboise qui nous donneront leurs conseils d'experts en lien avec la lingerie durant le temps des Fêtes! Commentez la publications en posant vos questions et courez la chance de gagner un des 3 chèques-cadeaux de 50$ échangeables chez Lingerie Emma!

Posted by Magazine VÉRO on Wednesday, November 14, 2018
RESULTS
31 907 people reached
1 369 clicks on the post
330 comments
26 shares
556 reactions
RESULTS
78 249 people reached
1 891 clicks on post
7 comments
12 shares
166 reactions
OUR SERVICES FOR THIS PROJECT
Take advantage of our professional services for Facebook or You tube LIVE for your next event, press conference, product launche, live interviews, etc!
Contact us