GET LEAD GENERATION
BY USING SOCIAL MEDIA!
DIGITAL MARKETING
Expand your presence on the web and social media with strategies tailored to your needs and aligned with your marketing goals!
WEB CONTENT
Need a little help with your web content? Take advantage of our turnkey services, including writing texts and articles, photography and videos (ground based and aerial) as well as material for your social media.
SOCIAL MEDIA
Showcase your products and services through social media! We'll help you with your strategies, community management, monitoring and advertising campaigns to develop a strong connection with your communities.
VIDEO PRODUCTION
Get to know your business, your tourist attraction and your events in an exceptional way with the help of our corporate video, live video and aerial video services.
COPYWRITING
When we talk about creating content for the web certain rules must be applied. Social Web creates content that attracts, converts and improves your position on search engines.
shopify e-commerce
Get a complete Shopify online store and benefit from our digital marketing and content creation services to sell your products online!
Michael Deschambault, Financing and Accounts Receivable Manager, Affacturage JD / JD Factor

I was lucky enough to work with Isabelle for a few years at Affacturage JD. She was able to guide and advise us on the best practices for managing our social networks and online content. If you're ever looking for someone to manage your social networks, I'd definitely recommend Isabelle!

Isabelle Cloutier - Founder and eco-designer, MUJO & Isa C. Coach PNL & Slowpreneure

I worked with Isabelle to design and create content for my online store (mymujo.com). I was charmed by her attentiveness, expertise, sharp eye and efficiency. Isabelle is very human in her approach to her customers, and knows how to combine performance and well-being. She's a delight to work with. Her focus is on excellence and continuous improvement. To try her is to adopt her! Isabelle is now my coach for all digital content strategy on all my platforms, both for my coaching company and my MUJO clothing line. Thanks for being there!

Tereska Gesing - Co-Fonder, Semis Urbains / Urban Seedling

I highly recommend Isabelle Vallée for content production work. She has greatly improved the structure and content of our website (Urban Seedling) and the quality of our social media presence. For a family SME, this kind of professionalism really pays off. What's more, she's very kind, and always wears a big, warm smile. Working with her was a great pleasure.

Laurence Lefebvre - Sales Director and Partnerships, Presentation Design

Choose Social Web for your web strategy, content marketing, web copywriting and social media projects! Isabelle supported us in the creation of our very first online store with invaluable efficiency and responsiveness. She took charge and guided us towards the best solutions throughout the project. Her web and communications experience were major assets. She was hyper-available and positive despite the many changes requested along the way! I'm 100% satisfied with this very first collaboration, and I can confirm that it won't be the last!

Fannie Pratte - Executive Vice-President, SDC du Vieux-Montréal

In order to proceed with the redesign of our website (gensduvieux.ca), we asked Social Web to carry out an analysis of our web needs. This diagnosis enabled us to better understand our challenges and gave us some original ideas for highlighting our business offer, our members and Old Montreal's cultural offerings!
New studio for Social Web & Cinéquinox
Book your session
Social Web and Cinéquinox are pleased to offer a new, modern and versatile studio for all your video shooting and audio recording needs. Discover all the possibilities our new studio has to offer. Find out more about this new studio in our blog post.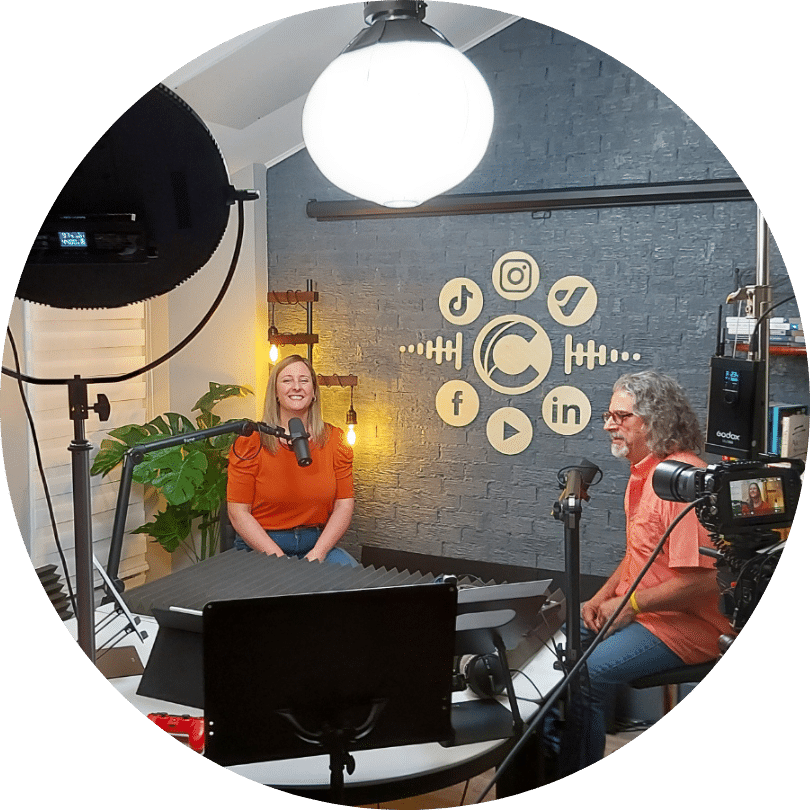 We're proud to be part of their success!
Contact our team
Have an idea for a project? Contact us to see it come to life!